Regular price
Sale price
£75.00 GBP
Unit price
per
Sale
Sold out
This month we are showcasing six fantastic wines from Australia, as always we have selected a wide range of grape varieties by various different producers from this great winemaking nation. The three whites and three reds we have chosen are all from the £10 - £20 price bracket and would normally retail for £82, so we are pleased to offer this month's box at the discounted price of £75.
Victoria Park Chardonnay, South Australia (13.5% Vol)
Regular price - £10.15. On the nose aromas of fresh peach, honey and hints of lemon. On the palate the slightest hint of oak comes through with well-balanced fruit. This versatile wine represents great value for money and will pair well with most chicken dishes.
Yalumba, Samuel's Collection, Eden Valley Viognier 2020 (14% Vol)
Regular price - £16.95. On the nose - aromas of apricots and fresh white flowers. On the palate - long and silky, with luscious textures, stone fruit flavours and an appealing freshness on the finish.
St Hallett Eden Valley Riesling 2017 (11.5% Vol)
Regular price- £14.59. Notes of honey, lime blossom and red apple on the nose. On the palate - bright and citrusy with fantastic acidity.
The Conductor Merlot, Phillip Shaw, Orange 2017 (14.2% Vol)
Regular price - £16.59. This wine shows aromas of red berry fruits with notes of dried herbs. On the palate it is a succulent and savoury merlot that's medium bodied with fine savoury tannins.
Cranswick Estate Shiraz, 2019 (14.5% Vol)
Regular price - £12.59. On the nose - spices, dark berries and earthy aromas. The palate displays ripe blackberries and spice followed by savoury overtones, all supported by a deft touch of oak from 12 months maturation. Soft tannins round off a precise and well-made Shiraz.
St Hallett Gamekeeper's, Shiraz Grenache Touriga 2017 (14% Vol)
Regular price - £10.95. On the nose this wine shows rich red fruit with notes of spice and clove. Stylish and flavoursome on the palate with ripe tannins. The three different grape varieties each show their own characteristics.
For orders outside the United Kindom please telephone (0116 2542702) or email using the 'Enquiries' section at the bottom of the Homepage.
Share
View full details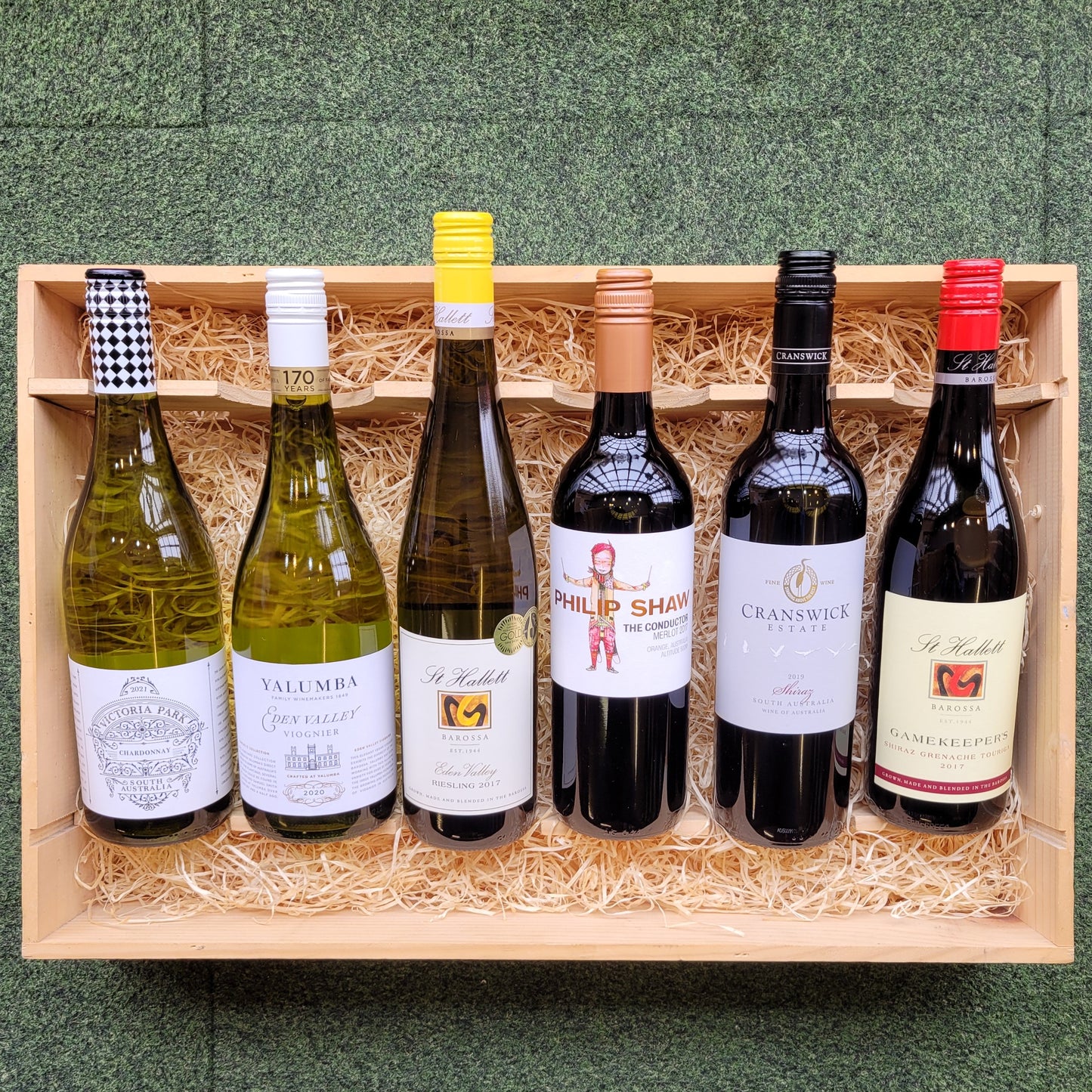 Delivery

Evington´s will not sell or deliver alcohol to anyone who is, or appears to be, under the age of 18. We cannot guarantee availability of all products at any one time, however, in the event that a product is unavailable, please contact us and we'll inform you of an estimated time of stock replenishment. We reserve the right not to accept any order. Orders can be for any quantity you require.

Hassle-Free Exchanges

You may cancel your order at any time until seven working days after delivery. Should you decide to cancel, all charges to you will be refunded as soon as the goods are returned in merchantable condition. You will need to return the goods to our store by courier or by hand. In the event of complaint please contact Oliver March using our contact form.

Terms and Conditions