Regular price
Sale price
£68.00 GBP
Unit price
per
Sale
Sold out
This month we are returning to France with a Picpoul de Pinet and a Sauvignon Blanc from Southern France, a Merlot rosé from Bordeaux, a Côtes du Rhône, a Syrah/Grenache and a Cabernet Franc from Pays D'oc. All for the discounted price of £68.
Picpoul de Pinet, Terres Rouges 2021 (13% Vol)
Regular price £14.79. Discreet and pleasant nose with white and citrus flowers. A fresh palate with a perfect marriage between acidity and fruit. Matches well with oysters.
Le Raconteur, Sauvignon Blanc, Vin de France 2021/22 (13% Vol)
Regular price £10.19. On the nose - citrus fruit and mineral aromas. On the palate - green apple and lime flavours, as well as some refined mineral notes.
Chateau Haut Rian Rose 2020 (12.5% Vol)
Regular price £12.20. A bouquet of white flowers, strawberries, with some minerality and a touch of spiciness. The palate is round, fresh and balanced with a long, elegant finish.
Cotes du Rhone, Vieilles Vignes, Domaine de l'Espigouette 2019 (14% Vol)
Regular price £13.59. A rich concentration of fruit on the nose. With black-plum and cassis flavours enveloping the mouth. Drink with any grilled meat.
Marius Syrah - Grenache, Chapoutier, Pays D'Oc 2019 (13.5% Vol)
Regular price £9.25. Powerful, spicy red berries and a delicate floral touch on the nose. Concentrated and structured on the palate with a tinge of silky tannins. Great with grilled, spicy chicken.
Cabernet Franc 1620, Lorgeril, Vin de Pays D'Oc 2021 (14% Vol)
Regular price £11.70. This wine is ripe and juicy with black-fruit tones on the nose. On the palate it shows fruity and savoury notes, with great elegance for the price. Good with coq au vin.
For orders outside the United Kindom please telephone (0116 2542702) or email using the 'Enquiries' section at the bottom of the Homepage.
Share
View full details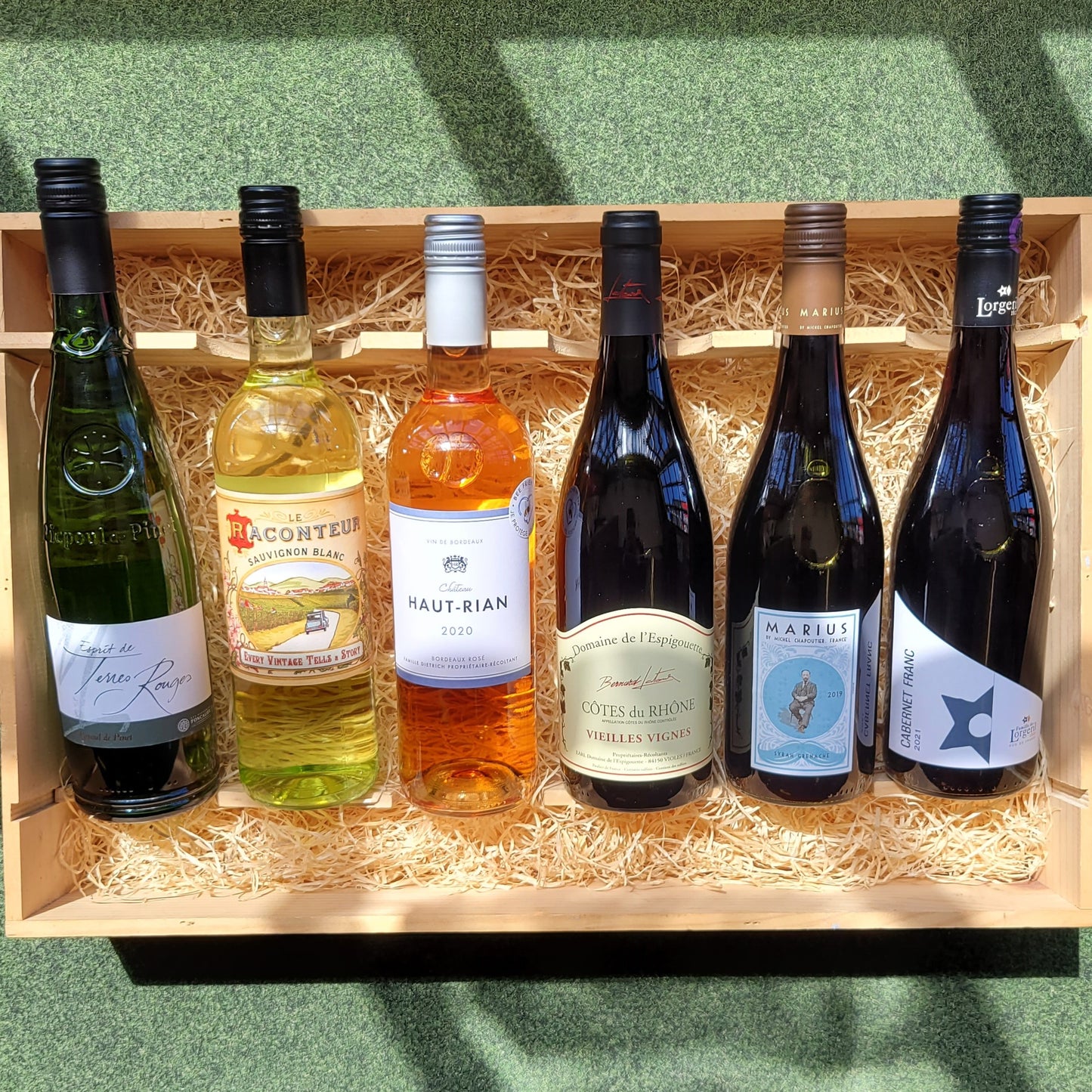 Delivery

Evington´s will not sell or deliver alcohol to anyone who is, or appears to be, under the age of 18. We cannot guarantee availability of all products at any one time, however, in the event that a product is unavailable, please contact us and we'll inform you of an estimated time of stock replenishment. We reserve the right not to accept any order. Orders can be for any quantity you require.

Hassle-Free Exchanges

You may cancel your order at any time until seven working days after delivery. Should you decide to cancel, all charges to you will be refunded as soon as the goods are returned in merchantable condition. You will need to return the goods to our store by courier or by hand. In the event of complaint please contact Oliver March using our contact form.

Terms and Conditions