Regular price
Sale price
£74.00 GBP
Unit price
per
Sale
Sold out
For November we have specially selected six fantastic French wines which represent quality, finesse and variety. This month's box includes a Semillon/Sauvignon blend from Bordeaux, a Sauvignon Blanc from Southern France, a Malbec/Merlot from Cahors with some good bottle age, a Syrah/Grenache/Mourvèdre from Corbières, a Cabernet Sauvignon from Côtes de Thongue and a 100% Cabernet Franc from Languedoc. These six bottles are available for the discounted price of £74.
Château Haut Rian Blanc 2021/22 (12.5% Vol) £13.49
On the nose - slight apricot aromas, peach and citrus. On the palate - fresh and clean with excellent balance of acidity and fruit. Pairs well with pan fried white fish.
Le Raconteur, Sauvignon Blanc, Vin de France 2022 (13% Vol) £11.49
On the nose - citrus fruit and mineral aromas. On the palate - green apple and citrus flavours, as well as some refined mineral notes.
Chateau la Coustarelle, Cahors 2015 (14% Vol) £13.89
A full-bodied Cahors with dark cherry on both the nose and palate, which is accompanied by slight aromas of damson. Goes well with venison or pheasant.
Chateau La Bastide Tradition Rouge, Corbieres 2019 (15% Vol) £13.70
60% Syrah, 20% Grenache and 20% Mourvedre creates a wine with plum, dark chocolate, cherry and some peppery notes. Rich powerful and smooth with good balance. Perfect with red meat stews.
Domaine Mont d'Hortes Cabernet Sauvignon, Côtes de Thongue 2020 (13.5% Vol) £11.22
With lots of black fruit on the nose, this is a deep, intense Cabernet Sauvignon which has an abundance of concentrated fruit on the finish. Goes well with roast beef or strong cheese.
Cabernet Franc 1620, Lorgeril, Vin de Pays D'Oc 2021 (12.5% Vol) £12.49
This wine is ripe and juicy with black-fruit tones on the nose. On the palate it shows fruity and savoury notes, with great elegance for the price. Good with coq au vin.
For orders outside the United Kindom please telephone (0116 2542702) or email using the 'Enquiries' section at the bottom of the Homepage.
Share
View full details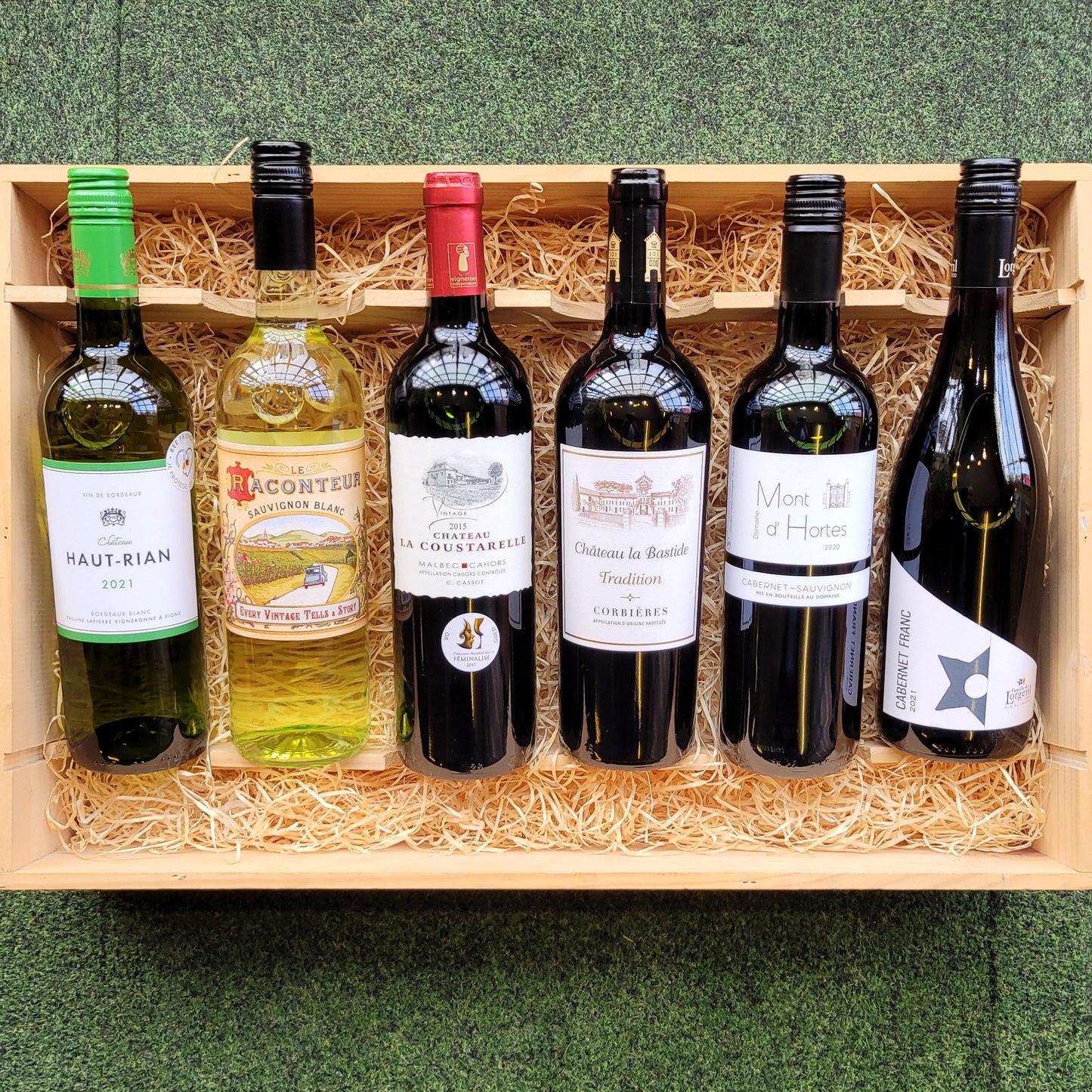 Delivery

Evington´s will not sell or deliver alcohol to anyone who is, or appears to be, under the age of 18. We cannot guarantee availability of all products at any one time, however, in the event that a product is unavailable, please contact us and we'll inform you of an estimated time of stock replenishment. We reserve the right not to accept any order. Orders can be for any quantity you require.

Hassle-Free Exchanges

You may cancel your order at any time until seven working days after delivery. Should you decide to cancel, all charges to you will be refunded as soon as the goods are returned in merchantable condition. You will need to return the goods to our store by courier or by hand. In the event of complaint please contact Oliver March using our contact form.

Terms and Conditions