Regular price
Sale price
£56.00 GBP
Unit price
per
Sale
Sold out
This month's selection of three whites and three reds come from South Africa. We have chosen six 'single varietal' wines from a wide range of producers and regions, all of which are worth their place on the shelves at Evington's and represent excellent value for money. The October Box is available for the discounted price of £56.
Oude Kaap Chenin Blanc 2022 (12.5% Vol)
Regular price £7.30. On the nose - aromas including mango, pineapple, passion fruit and melon. On the palate - clean, crisp and easy drinking.
Boschendal The Pavillion Chenin Blanc 2022 (12.5% Vol)
Regular price £7.35. Generous, exotic tropical fruit aromas with pink grapefruit on the nose. A fruity yet dry wine with delicious citrus flavours and a fresh sharp finish. Enjoy with roast pork or chicken.
Bellingham Bernard Series Hand Picked Viognier 2022 (13.5% Vol)
Regular price £14.90. Fragrances of peach and white pear dominate. Full flavours of peach, apricot and a tropical fruit touch with a hint of spice from oak ageing on the palate.
Klippenkop Pinotage 2022 (13% Vol)
Regular price £11.45. A full-bodied red wine with masses of dark fruit and a hint of spice. Soft and smooth yet powerful this is a robust wine that goes well with rich red meats.
Franschhoek Cellar, The Churchyard Cabernet Sauvignon 2020 (14% Vol)
Regular price £8.79. Deep crimson with intense blackcurrants and violets on the nose. Currants and mulberry fruit flavours and an attractive oak spice on the palate lead to a lingering juicy fruit finish. Goes well with steak or brisket.
Oude Kaap Reserve Shiraz 2021 (14% Vol)
Regular price £7.30. On the nose - blackberries, pepper and spice. On the palate - ripe tannins and a good balance of acidity, lead to a pleasant finish.
For orders outside the United Kindom please telephone (0116 2542702) or email using the 'Enquiries' section at the bottom of the Homepage.
Share
View full details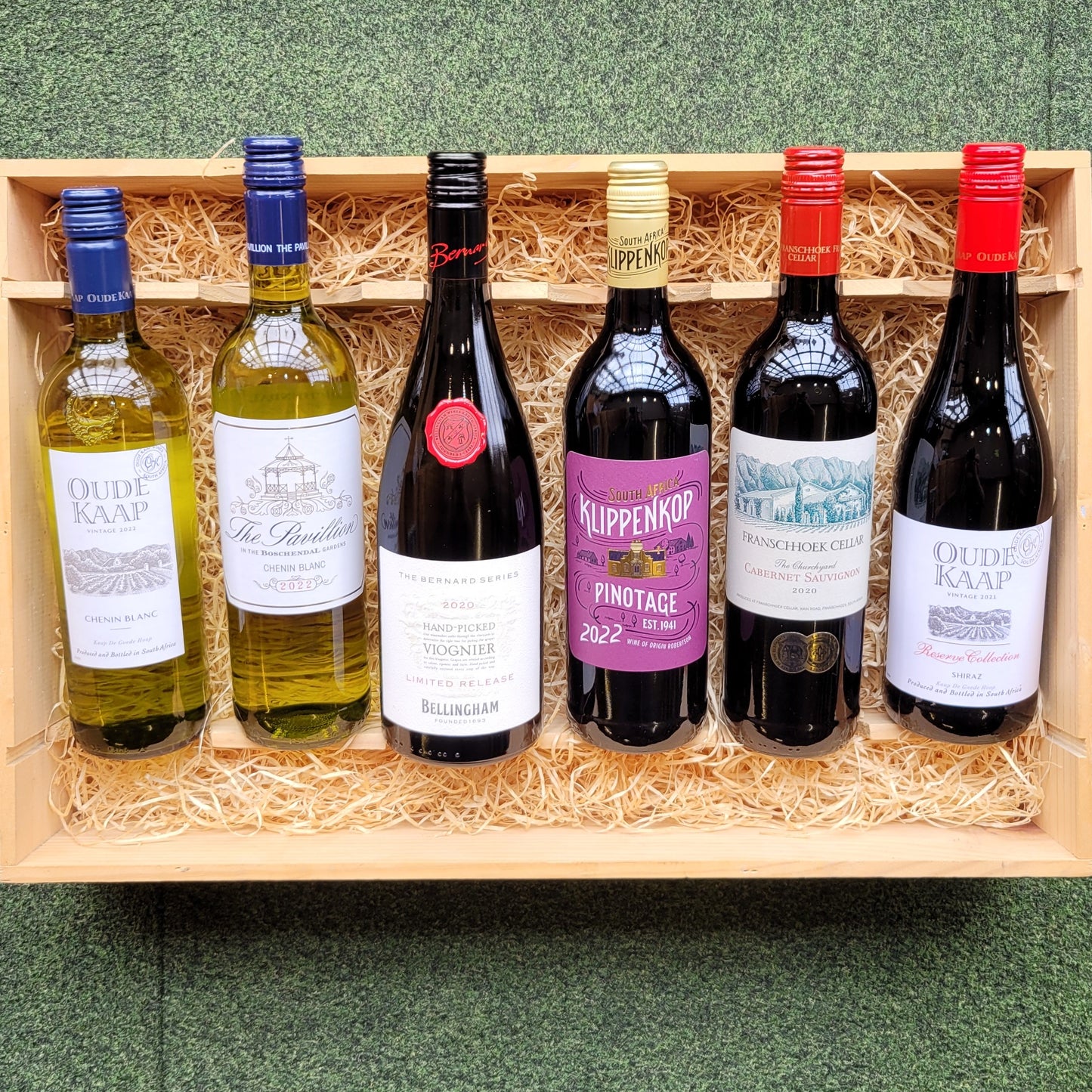 Delivery

Evington´s will not sell or deliver alcohol to anyone who is, or appears to be, under the age of 18. We cannot guarantee availability of all products at any one time, however, in the event that a product is unavailable, please contact us and we'll inform you of an estimated time of stock replenishment. We reserve the right not to accept any order. Orders can be for any quantity you require.

Hassle-Free Exchanges

You may cancel your order at any time until seven working days after delivery. Should you decide to cancel, all charges to you will be refunded as soon as the goods are returned in merchantable condition. You will need to return the goods to our store by courier or by hand. In the event of complaint please contact Oliver March using our contact form.

Terms and Conditions