Regular price
Sale price
£67.00 GBP
Unit price
per
Sale
Sold out
This month we are returning to Italy, as we enjoy the last of the summer sun! We have two stunning Grillos by different producers from Sicily (which will be interesting to compare), a firm Evington's favourite in the form of Lenotti's Colle dei Tigli and three wonderful reds from Veneto, Puglia and Sicily respectively. This month's Selection Box is available for the discounted price of £67.00.

Grillo, Paolini - Sicily 2022 (12% Vol)

Regular price £10.17. Typical Grillo bouquet of apricot, white peach and a hint of herbs. Intense and fresh on the palate, with a pleasant minerality. Macaroni cheese is the perfect partner for this wine.

ERA Grillo, Sicily (Organic - Vegan Friendly) 2020 (12.5% Vol)

Regular price £12.25. This wine is lemony and zesty on the nose. There's vivid citrus fruit on the palate and a fine crisp finish. It's perfect with crab salad.

Colle dei Tigli, Veneto, Lenotti 2020 (12.5% Vol)

Regular price £12.29. This wine has a fruity and intense aroma, with hints of peach and apple. Full-bodied, dry and fresh on the palate, it pairs well with poultry dishes.

Bardolino Classico, Lenotti 2021 (12% Vol)

Regular price £12.19. This wine is made from Corvina, Molinara and Rondinella grapes which are grown on the East side of Lake Garda. A delicate aroma, fragrant and mellow. Dry and pleasant on the palate.

Primitivo Tacco Barocco, Sampietrana 2020 (13.5% Vol)

Regular price £12.50. On the nose - plum, blackberry and currant aromas dominate. On the palate - dry, robust, well balanced by fine tannins and a good level of acidity. Great with a steak!

Nero d'Avola, Paolini - Sicily 2022 (12% Vol)

Regular price £10.19. This is a wine is full of red fruit aromas. On the palate there's lots of fresh fruit and well-balanced acidity. A great BBQ wine.

For orders outside the United Kindom please telephone (0116 2542702) or email using the 'Enquiries' section at the bottom of the Homepage.
Share
View full details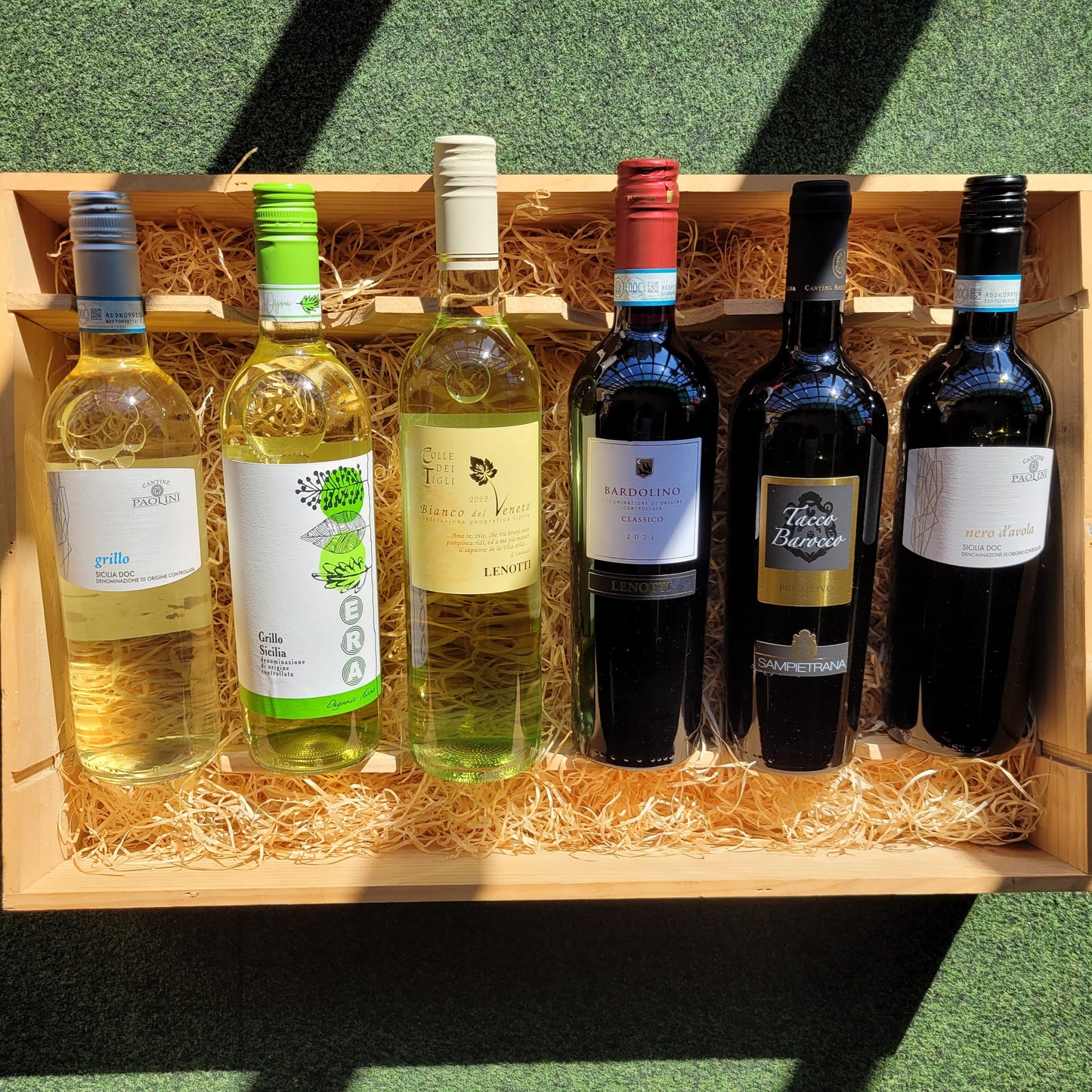 Delivery

Evington´s will not sell or deliver alcohol to anyone who is, or appears to be, under the age of 18. We cannot guarantee availability of all products at any one time, however, in the event that a product is unavailable, please contact us and we'll inform you of an estimated time of stock replenishment. We reserve the right not to accept any order. Orders can be for any quantity you require.

Hassle-Free Exchanges

You may cancel your order at any time until seven working days after delivery. Should you decide to cancel, all charges to you will be refunded as soon as the goods are returned in merchantable condition. You will need to return the goods to our store by courier or by hand. In the event of complaint please contact Oliver March using our contact form.

Terms and Conditions